Helpful Links
Helpful Sites & Links
The following is a small list of useful links that I have compiled.
www.Homeschool.com ---- The #1 Homeschooling Site!
They have great articles on Methods of Homeschooling, Articles , Essays & such, An article on How much does it cost to homeschool. Also information on Free Education online. And much, much more.... This is a great homeschooling resource.
We have a full line of books, audios, ebooks, eworkshops, and online studies by the Cindy Rushtons and the entire Rushton Family! Take a look at them today. You will LOVE them!
Welcome to Ambleside Online, a free curriculum designed to be as close as possible to the curriculum that Charlotte Mason used in her own PNEU schools. Our goal is to be true to Charlotte Mason's high literary standards. Ambleside Online uses the highest quality books and costs no more than the cost of texts. The curriculum uses as many free online books as possible, and there is no cost to use this information or join the support group.

"Education is an atmosphere, a discipline, a life." ~~~ Charlotte Mason
The Baldwin Project seeks to make available online a comprehensive collection of resources for parents and teachers of children. Our focus, initially, is on literature for children that is in the public domain in the United States. This includes all works first published before 1923. The period from 1880 or so until 1922 offers a wealth of material in all categories, including: Nursery Rhymes, Fables, Folk Tales, Myths, Legends and Hero Stories, Literary Fairy Tales, Bible Stories, Nature Stories, Biography, History, Fiction, Poetry, Storytelling, Games, and Craft Activities.
Welcome to An Old-Fashioned Education. I'm Miss Maggie, owner and creator of this site. You'll find here a directory of free homeschool curricula, literature and text books organized for the use of homeschooling families.
No Greater Joy is the ministry of Michael & Debi Pearl under the auspices of No Greater Joy Ministries Inc. Michael has been a pastor, missionary, and evangelist for over 40 years. The Pearls have 5 children, all homeschooled. They have grown up to become missionaries and church leaders. Though holding a degree from the Mid-South Bible College (now Victory University), when Michael is asked for his credentials on child training he points to his five children.
As goes the child so goes the future adult-and the future parent. At every moment, parents holding little children are holding the future. Parenting, the most important and demanding job in the world comes on us by default. Ready or not, prepared or ill-equipped, all parents produce fruit that lasts throughout eternity. It is like stopping everyone that walks down the street and seating them at a piano to play for five minutes. The melody or the dissonance goes on and on from one generation to the next unless someone takes the time to break the cycle and learn the skill...of parenting.
Through books and tapes, the Pearls are training parents to break the bad habits passed down from former generations and to recognize and emulate the wisdom of those who have gone before. The Bible and common sense are the foundations for effective parenting.
Our ministry is entirely nonprofit, overseen by the board of directors. No Greater Joy Ministries is registered with the State of Tennessee and complies with all statutes as a non-profit religious organization.
The Pearls do not receive royalties from the sale of their child training materials. The profits from sales are used to propagate the Gospel of Jesus Christ through missionaries and the production of new materials on parenting and the home.
The Pearls' first book on child training, To Train Up A Child, was published in August 1994. To date, over 650,000 have been printed in English. Since 1994 it has also been translated into many foreign languages. In response to the many letters and questions, the Pearls publish a free bi-monthly, 40-page magazine, No Greater Joy. Also, a variety of books, CDs, and DVDs have been produced and made available at minimal cost.
In order to fulfill their call as husband and wife, parents, and authors they cannot answer every phone call, letter, or e-mail personally, but have a fine staff and use the bi-monthly newsletter to respond to the many questions that they receive from people. Before you write to them, we ask that you FIRST make use of our publications to find answers to your child training problems. Most questions they receive are already answered in the books and tapes. Unfortunately, they cannot answer the majority of letters due to the sheer volume of mail they receive. We want the email to be available for church business, requests for free newsletters, and for those with pressing critical problems such as violence, losing children to state welfare agencies, etc., and for unusual problems not addressed in our published materials (books, audio, and video).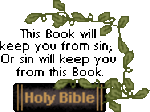 What is a Christian Worldview? Everyone has a worldview. Whether or not we realize it, we all have certain presuppositions and biases that affect the way we view all of life and reality. A worldview is like a set of lenses which taint our vision or alter the way we perceive the world around us. Our worldview is formed by our education, our upbringing, the culture we live in, the books we read, the media and movies we absorb, etc. For many people their worldview is simply something they have absorbed by osmosis from their surrounding cultural influences. They have never thought strategically about what they believe and wouldn't be able to give a rational defense of their beliefs to others.
www.AmericanVision.org VISION: An America that recognizes the sovereignty of God over all of life and where Christians apply a Biblical worldview to every facet of society. This future America will be a "city on a hill" drawing all nations to the Lord Jesus Christ and teaching them to subdue the earth for the advancement of His Kingdom. MISSION: Restoring America's Biblical Foundation—From Genesis to Revelation (Psalm 11:3). STRATEGY: Just as the Apostle Paul used the Roman highways to spread the Gospel, American Vision will use the Internet, Radio, Television, Audio/Video Resources, Publications, and Training Seminars to equip Christians with a Biblical worldview and teach them to fulfill all of the Great Commission and the Cultural mandate.
The Importance Of A Biblical Worldview
by Allan Turner
This site is about learning in freedom, taking responsibility for your own learning. It shows you how to use your own initiative in learning, so you can use schools and teachers just when they are helpful to you, and voluntarily chosen by you. There's a specific page on this site to show you how to get started in learning in freedom, and there are plenty of other pages on this site about other subjects. To find a specific page on this Web site, you can keep on reading for more links from this home page, which links to the main pages on this site, or you can use the site map or the search links on the bottom of every page (and on the top of most pages) to help you find what you are looking for. Besides internal links, there are links to more than 1,000 other Web sites on this site's more than forty pages. They also have a great list of colleges that accept homeschoolers. GREAT SITE FOR ARTICLES.